OMG YAY A WEBSITE!
OMG YAY A WEBSITE!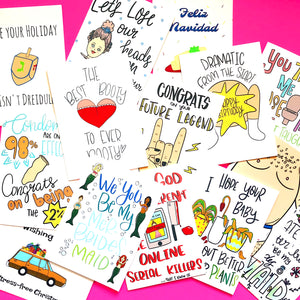 It's here, it's here! Let the party begin! After many weeks of tears, sweat (and some blood), Siyoboutique.com has finally launched! Siyo Boutique is growing and growing, so I decided to put on my big girl pants, flee the nest, and get out there on my own! 
This site won't just be about my products (which I think are awesome in the least bias way possible), but will also house my random inner thoughts in sporadic blog posts, movie critiques that no one really cares about, possible recipes that I have been loving and holiday things (because who doesn't love the holidays!)   
So if you are a newbie to Siyo Boutique, an awesome returning customer, or a person who somehow just stumbled upon my site after hours of mindlessly surfing the web (do people even still say this?), WELCOME WELCOME. I hope that you find the laugh that you need, in the midst of this crazy world that we live in, from my cards, mugs, prints or blog posts.
xoxo Gossip Girl (aka Ty)